Photo: The late WHUR sports talk show host Ron Sutton shares a laugh with me at an integrated Bullets' press table in Landover, MD.
Thanksgiving Day 2018, I took the opportunity to step back and think about how blessed I have been to live to be 80 years old as a free black man in America. Still there is the possibility I could leave my home today and be shot dead while "Driving or Walking Black (DWB) by a cop because of the color of my skin.
Sports have been a major part of my life starting in elementary school, (middle school, high school, college, minor league football) ending with me being a pioneering radio sports talk show host in my hometown of Washington, DC. Media press tables and pro sports are still the last plantations.
I remember in the early 1970's, my white colleague Frank Pastor and I were attending a NBA Washington Bullets game at the Capital Center in Landover, MD. Frank was a regular guest on my monthly Inside Sports media round-table show. It was half-time and we were standing at the top of the arena waiting for a break in the action so that we could return to our seats at the press table. I noticed there was a dividing line that separated black media from white media. Blacks were seated on the right and whites were seated on the left of the half court line. I brought it to Frank's attention. We decided to switch seats and integrate the press table for the first time. The rest of the league followed quietly.
I don't compare our accomplishment to that of Claudette Colvin who refused to give up her seat on a bus to a white man in Montgomery, Alabama. She was arrested on March 2, 1955. This was nine months prior to Rosa Parks famous arrest for the same offense. The press tables in pro sports arenas have changed very little. They are now dressed up in camouflaged credentials. There are so-called "Major Media," they are folks who work for The Washington Post, USA Today, NY Times, LA Times, etc. They are on their last legs thanks to the Internet. These are the media outlets who foot the bill for their reporters to travel with the home team out of town. They are called "Beat Reporters!" On too many occasions they are the last to know when it comes to identifying who are the alcoholics, drug abusers, gamblers, domestic violence abusers, gun totters, party animals, etc. Most "Beat Reporters" think they are smarter than the guy sitting in the bleachers above them. They don't understand they were chosen because they are considered "safe." They will go along to get along. They are often compared to "The House Negro" during slavery.
I have been a freelance writer for the Afro-American, NY Amsterdam, The Washington Times and The Washington Post newspapers and blogged for Bleacher Report (BR). I was one of BR's most widely read commentators in the beginning. I moved on because I was not considered "safe" and I exposed their Sacred Cows!
In 2009, when Wizards' superstar guard Gilbert Arenas and his teammates were playing a high stakes card game called "Booray" similar to poker on the planes, buses and in hotel rooms, the "Beat Reporters" were the last to know. They had no idea (or went along to get along) that money was flowing like they were playing Monopoly and some players were in over their heads financially.
The showdown would be between two street dudes in what resembled a Wild-Wild West shoot out in the Wizards' locker room. Gilbert Arenas who had an annual salary in the neighborhood of $16 million dollars and teammate Javaris Crittenton who had a NBA "Section 8" salary in the neighborhood $1 million dollars. Guess which one was in over his head?
Gilbert would later say, "It had nothing to do with the money–it was the trash talking (egos) that made them bring guns into the locker room." Arenas was a NBA superstar and he was out of the league in two years. Crittenton, a role player, is in jail for shooting and killing a 24-year old woman. His release date is 2036.
Now many are wondering whether John Wall and Bradley Beal are headed for a similar fate. New comer Dwight Howard is in the news (social media)for all the wrong reasons. "The Beat Reporters" are as quiet as mice. Don't look for any breaking news on ESPN, CBS, or The Athletic.com until they receive their "Marching Orders" from their publishers, editors and Washington Wizards.
The Beat Reporters and Editor-in-Chiefs are now playing the role of "The Three Little Monkeys" they hear no evil, see no evil, speak no evil and therefore they write no evil. Michael Wilbon (ESPN) and Dave Aldridge (TNT) were both on the scene of the Gilbert Arenas' potential shootout and "Wild West Show" in 2009, but looked the other way.
First, these guys lack common sense and street sense, they think that book sense is the means to all ends. Book sense will not allow you to be a peace maker similar to former player Caron Butler when it comes to calming down the likes of Gilbert Arenas and Javaris Crittenton who were locked and loaded. You cannot run to a book and see how to bring peace to this kind of chaos. I have been there and done that, but I was armed with STREET SENSE, COMMON SENSE and I was blessed by the best.
In 2016, without a national platform and armed only with a social media platform I uncovered a scam involving several NBA players. The players were Tony Parker and Kawhi Leonard of the San Antonio Spurs, Carmelo Anthony of the NY Knicks, and Chris Paul of the LA Clippers they were being duped into investing their money in a scam documentary/movie titled, "The First to Do It" based on the life story of my friend and NBA pioneer Earl Lloyd. I alerted Coach Greg Popovich and NBA Commissioner Adam Silver bringing the scam to their attention. I received a response from Commissioner Silver (see below).
The documentary/movie disappeared shortly after the NBA All-Star Game in February 2017. It makes you wonder where were Aldridge, Wilbon, Brown and the likes of Stephen A. Smith? Aldridge and Wilbon both were aware of the scam but ignored my warnings.
On Monday November 27, 2018, I spotted Wilbon in the corner of Capitol One Arena whispering to someone and Dave Aldridge was in the Press Room sitting in his cubicle office in his new role as Editor-in-Chief of a subscription blog called the Athletic.com? It appears he is "in bed" with the Wizards you can find his by-line on their website! Wilbon has been called by his Washington Post colleague John Feinstein the biggest "Ass Kisser" in pro sports and Aldridge thinks all pro sports personalities are "Sacred Cows?"
How can you trust what they write or say when there is no objectivity? I have known both of these "up close and personal" since their days are the Washington Post.

Dave Aldridge is the new Editor-in-Chief of The Athletic.com a subscription blog with a potential for "Fake News"—buyer beware!
I remember Wilbon being a regular on Inside Sports and often turning to me for advice as it related to the DC sports landscape. In 2000, he called me for advice in regards to racism in pro sports relating to a column he was writing on Buffalo Bill DE and NFL Hall of Fame player Bruce Smith. Smith had been traded to the Redskins. Wilbon wanted to know what I thought of Smith's complaints about racism that he encountered in Buffalo. He was looking forward to coming home to DC (home by way of Norfolk, Virginia) to escape racism. My response, "trying to out run racism in America is like trying to out run the sun." Wilbon would use my quote in his column. Nothing has change my thought pattern.

Photo: Michael Wilbon joins the late legendary DC athlete Gary Mays known as the one-armed bandit and me during Black History Month in DC.
http://abcnews.go.com/OnCampus/video/recognizing-african-american-sports-legends-13249112
I had a discussion with a staff member of the Wizards' PR department relating to a visit to a youth center here in the DMV. The purpose of the visit was to take a new Wizards' player to talk with incarcerated youth. I questioned his selection of media who were going to cover the outing. First, the selection process was bogus and the two media "Beat Reporters" he chose like him didn't have a clue as it relates to incarcerated youth or the facilities that house them. Neither one had any history working in the the "war zones" of the inner-city or having spend any time working in the criminal justice system with judges, cops, parole boards, the juvenile court system, etc. My life's work has been working with youth gangs and at-risk children, but still he wanted to leave me out of the process–their motives are personal and racist at the same time. I have a history with the NBA they would rather forget. All I saying is, "Not on my watch!"

Photo: Former NFL Chicago Bear WR and kick returner DC native Cecil Turner and I host a pass catching clinic with Lorton prison inmates.

Photo: Native Washingtonian Congressman Hank Johnson (D-Atlanta) and I recently spend time at the DC Youth Center talking to young people about the consequences of their bad behavior.
I could not blame the Wizards' player for being led to the youth center. He certainly had no clue since he had just arrived in town. The bottom-line: the victims as always would be our children. The last thing they need is a visit from a group of experts who don't have a clue of how they got to the youth center. The visit was later cancelled after the star player was hurt and will be out of action until at least February 2019!
This gave me an opportunity to talk with my INSIDERS working in the youth center facility. They saw it as nothing more then a photo opt for the Wizards' organization who had no history with any of the youth centers in the DMV. I also saw them using the visit as a opportunity to put their own propaganda spin on the organization's caring spirit for troubled youth in the DMV. I found the first ever half-house for juvenile delinquents on Bolling AFB in 1970. My work with youth gangs and at-risk children in DC is legendary. The problem, I am not a "House Negro."

Photo: Trying to keep peace in "The Hood." Officer Friendly Charles Robinson and I talk with a couple of friendly youth in the Shaw/Cardozo community.
David Aldridge is a DC native who knows absolutely nothing about the inner-city, he attended DeMatha HS and American University, those two institutions are as far away from the inner-city as you can get. James Brown falls into that same category. Michael Wilbon is from Chicago.

Inside The NFL and Bryant Gumble's "Real Sports" sounds like Inside Sports to me. James Brown is and was a contributor on both shows–coincident?
I have no problem with these pro athletes and so-called major media personalities (House Negroes) giving away toys or feeding the hungry but they cross the line when they try to play games with the feelings and minds of our children. My advice to David Aldridge and Michael Wilbon: "Stay in your lane!"
Brothers like Aldridge, Wilbon and Brown are so safe that when it comes to taking a stand on an adverse condition in the black community, they could jump up and down on a egg and never crack it!
The PR guys in the NFL, NBA, MLB and the NHL are overwhelmingly white. There agenda is to hire black young men and women on their staff and give them a title and assign them players to lead around and spy on them and report back. These brothers have never known the agony of defeat and have never been in a winner's circle. They are basically, cheerleaders without the pom-poms and short skirts. The PR guys in charge will use these brothers to cover up their racist offenses and will say, "I can't be racist look at all the blacks on my staff!"
I will wait until all of these charades play out (Wall, Beal, Howard, Kevin Durant, Draymond Greene, Eric Reid, and the Doug Williams and LB Reuben Foster charade) and I will then write my "Inside" story. Don't hold your breath waiting for Dave Aldridge to give you the Inside scoop on the Wizards. Stay tune!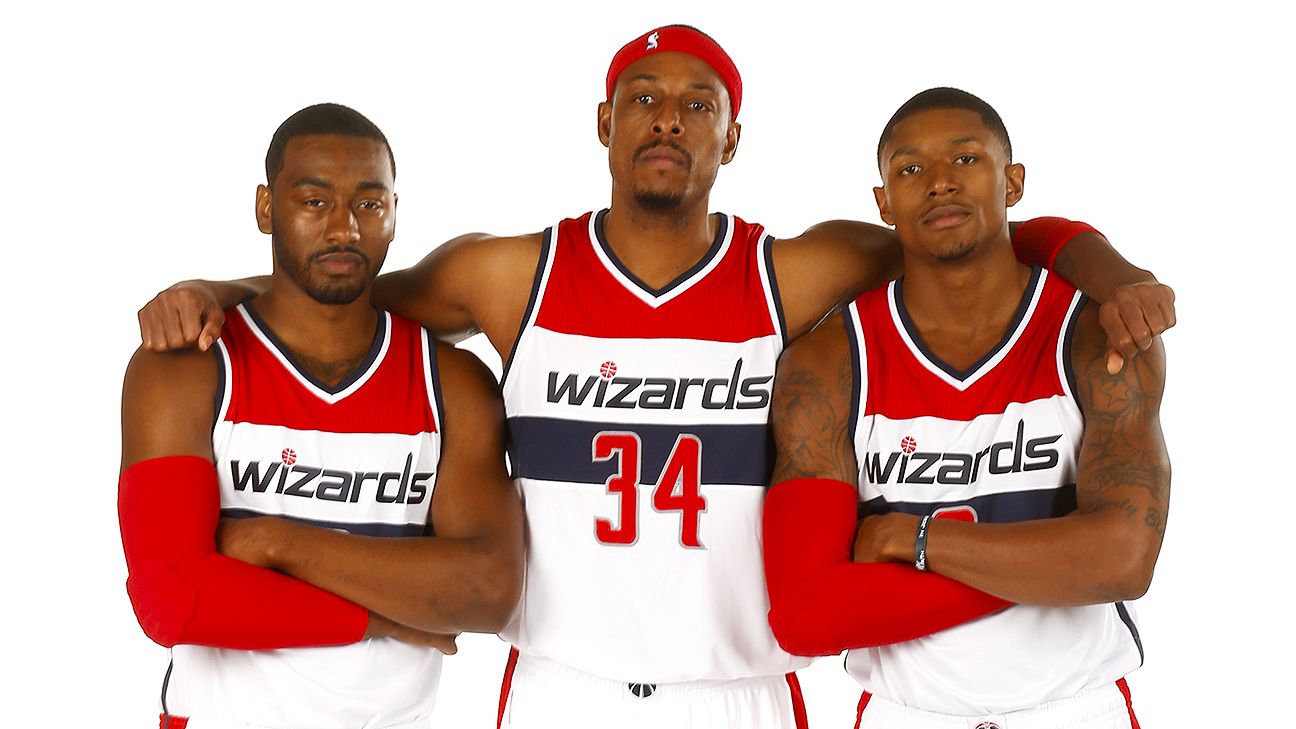 This team lacks the veteran leadership of former Boston Celtic Paul Pierce
Now back to my blessings, it does not help that the envy, jealousy and player hating found among blacks is often the result of a plantation mentality that brought us to America over 400 years ago. We cannot seem to shake that mentality.
There is no economic relief in sight as redlining continues at our banks. In 2018, as we fight for equal pay for women a black man in America is still paid half the salary of a white man, and when there are gains like Affirmative Action they throw us a curve and make a white woman a minority! Since Affirmative Action the people suing for discrimination as it relates to academic admissions process are white women. White women are the biggest winners which means the white man wins "The Power Ball." He goes to sleep and wakes up with his ace in the hole. The Brett Kavanaugh nomination to the Supreme Court is living proof she stands by her man.
In the meantime; the truth is being assaulted, suppressed and challenged by folks who would not recognize it if it was sleeping in the bed with them.
This Thanksgiving I realized how truly blessed I was, when one of my young men whom I touched along my journey in the byways and alley ways of the inner-city said on Facebook, Harold Bell you are the true example of what God has put on earth to represent his blessings that he instills in a man and woman that lives amonst his people. Congratulations, many thanks for staying the course and continue the journey-stay blessed!!! Those were the words of Rev. Joel Dearing. Which brings to mind I have two other young men in the ministry, Rev. Ricky Williams and Rev. Salim Edwards these two brothers have been truly a blessing in my life. There is also Lonnie Taylor. Lonnie is from the hood, he was the first black hired as a Chief of Staff for a white congressman, Jack Buechner (D-Missouri) on "The Hill."
Read the following "Letter of Appreciation" to Harold Bell from Lonnie Taylor
Dear Mr. Bell,
It was great seeing you at Secretary Jack Kemp's address sponsored by the Heritage Foundation.
As I stated then, as a former resident of the 14th and W Street area, I owe you many thanks for the things you did on behalf of the city's youth. Believe me Hillcrest Children's Center Saturday Program brings back fond memories. You should take pride in the fact that your example of selfishness continues in so many of us today. Thanks for all that you have done and still do.
Sincerely,
Lonnie P. Taylor
Chief of Staff
Jack Buechner (D-Missouri)
"Whats Going On?" I was further blessed when it was announced that my homeboy and friend the late great Marvin Gaye's photo will be on the U. S. Postage stamp in 2019. It does not get any better than that! Despite his demons he was a beautiful and caring human being that never forgot who he was and where he came from.

RIP my brother!
Harold Bell is the Godfather of Sports Talk radio and television in Washington, DC. Throughout the mid-sixties, seventies and eighties, Harold embarked upon a relatively new medium–-sports talk radio with classic interviews with sports celebrities, politicians and news makers of the day. The show and format became wildly popular. Harold has been an active force fighting for the rights of children for almost 50 years with the help of his wife Hattie through their charity Kids In Trouble, Inc. To learn more about Harold Bell visit his official web site. You can check out Harold's work on this site by clicking here.